Eating out at any good restaurant is an enjoyable experience, but there are some restaurants that are worth travelling thousands of miles to experience. If you have even a passing interest in food, then you should definitely add these amazing restaurants to your "must see" list. You haven't experienced the true range of what fine dining has to offer until you have tried these amazing eateries.
El Diablo, Lanzarote
The El Diablo restaurant in Lanzarote is a unique restaurant that serves chicken cooked over an open volcano. The way the food is cooked gives it a distinct taste, and you can feel the heat from the volcano as you walk past the restaurant. Of course, the volcano is dormant, but there's still a certain thrill to saying that you visited a restaurant built next to an open volcano!
The River Café, London
This Michelin star restaurant doesn't look particularly special from the outside, but the food that it serves is spectacular. The River Café is well known as being a "training ground" for up-and-coming chefs. It is the restaurant where Jaime Oliver worked at the start of his career, and you can be sure that the chefs cooking there today will be the next big thing in the culinary world.
Sukiyabashi Jiro is a small, understated Sushi restaurant located at the entrance to an underground station. This isn't a place you would go to impress someone on a first date, because the venue is hardly impressive, but the food is spectacular. The fish is so fresh that the restaurant does not use a fridge.
Ithaa Restaurant, Maldives
For a truly spectacular dining experience, try the Ithaa Restaurant, which is a restaurant located completely underwater, just off the Rangalifinolhu Island, in the Maldives. The restaurant is contained in a transparent bubble, and the structure is expected to last only 20 years, so you should start planning your trip here soon!
Katz's Delicatessen, New York
No trip to New York City is complete without a trip to a good pastrami place. Katz's Delicatessen serves the finest Pastrami in New York.
The Dark Restaurant, Beijing
The Dark Restaurant is a restaurant where you eat in total darkness. Even light from luminous watches is forbidden. This restaurant was created for two reasons – firstly, to offer employment opportunities for the visually impaired, and secondly, to offer a truly distraction free dining experience. Your taste buds will, in theory, go into over-drive when your other senses are impaired.
Restaurant Gordon Ramsay, London
Gordon Ramsay is one of the most well-known chefs in the world, so it should come as no surprise that his signature restaurant holds three Michelin stars. Everything from the décor and the service to the food itself is completely flawless, making this a must-experience for al gourmet dining lovers.
Noma, Copenhagen
If you're going to travel the world, it makes sense to try some local dishes in each country. Noma offers a true taste of Denmark, with all of its dishes based on locally grown and foraged foods. It pays to visit this restaurant more than once, at different times of the year, because the menu varies dramatically with the seasons.
Dinner in The Sky, Brussels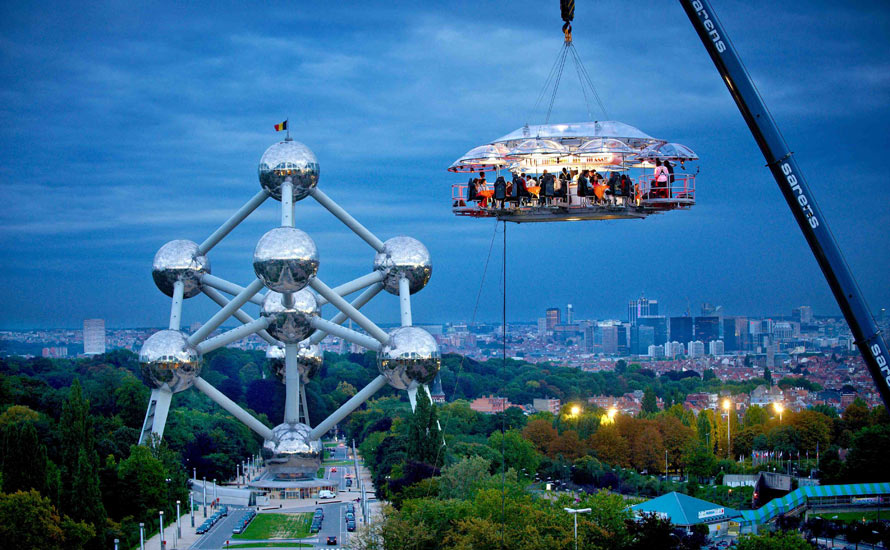 If you book a meal at this spectacular restaurant, you and the rest of your party (of up to 22 people) will be strapped into your seats, and then have your tables lifted into the sky. From your vantage point at the top of the crane you can enjoy a spectacular view of Brussles, while you eat a meal served by a Michelin-star awarded chef.
10. Sin Huat Eating House, Singapore
This friendly and vibrant restaurant is located in Geylang, Singapore, and is a seafood-lover's heaven. If you are looking for a restaurant where you can enjoy satisfying spicy noodles, prawns, cod and scallops you will definitely enjoy a trip here.
This post was written by Crispin jones for The Gourmet Society. They have both a card and an app that allows you to get discounts across a multitude of restaurants.