Going on vacation and you don't want to blow a hole in your savings? Everyone thinks about this all the time they need to travel. You just don't want to save money, you also want to enjoy your vacation in style and elegance. From the way you travel to the hotel you stay in and the places you experience on your vacation.
We would all want to stay in a 5 star hotel and afford a week long vacation. It is possible. According to a recent survey, you can get 5 star hotels for an average price of $125 in Warsaw, Poland. This was the average price of the high and low season. Well, pack your bags, it's possible to get a cheap 5 star hotel.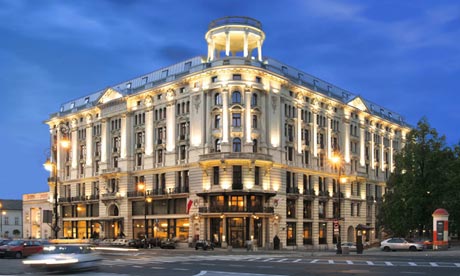 The survey observed that hotel prices had dropped around the world in the first half of 2013 and therefore that makes it easier to afford luxury cheaply.
Other Cheapest Cities for 5 Star Hotel Rates
1. Warsaw $124.45
2. Pisa $176.59
3. Tallinn $185
4. Budapest $186.68
5. Lisbon $ 195.09
6. Berlin $ 201.82
In 2011, Berlin was the cheapest city for 5 star luxury at a cost of $195. This goes to show how low the prices of travel and holidays have gone. Take advantage of these and get yourself and your family vacationing in style in either of these cities.
Warsaw being the cheapest city in the world right now you will definitely take advantage of that and travel there. Here are some things that you will need to check out. You can go to the park Lazienki Krowleski built in the 17th century. It has many monuments that include a palace built for the last king of Poland. You may also see the Palace of Culture and Science. It is the tallest building in Poland and has a viewing base on its 30th floor where you will have a panoramic view of the city. It has a rich history which you will definitely find out. You can also go to its museum which has stored up items from the time of the 2nd World War and also the World of Science where you can go perform experiments and have fun.
Now that we know the cheapest cities in the world for luxury, let's see the most expensive. From the survey, Rio was named the world's most expensive city for hotel rooms going at an average of $312. New York has the second most expensive hotel rooms at $277 followed by Geneva at $259 and Honolulu at $250.
Every body would like to visit these expensive places for the diversity and experience they offer. You can still enjoy all the things offered in these destinations and more on a budget. Do your research well. You can start here where we have given you the cheapest 5 star hotels and you decide where you want to go.
Travel not only helps you relax, and bond with loved ones, it gets you to open your mind and get in touch with history and other people's culture. Travel more.
You don't have to break your bank while you travel, no. Try travelling low season or after major holidays to get good deals on the price of your hotel room and are able to enjoy your time without much crowding.
Ellen Pennington is a travel expert. She likes to share tips on travelling on a budget. She is also part of Gatlinburg cabin rental company, Mountain Laurel Chalets.